New $5 Happy Hour at D&B
Published July 31, 2023
Find your happiest hour with delicious drinks and late-night bites – all $5 each.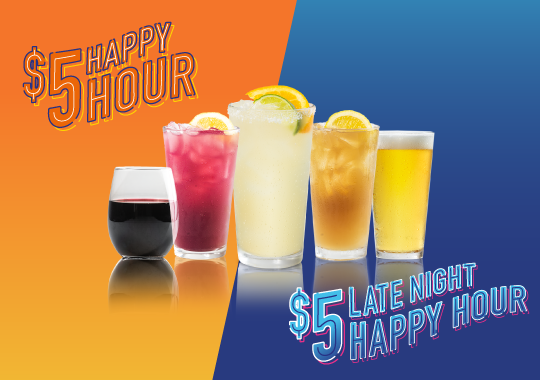 SAY "CHEERS"
At D&B, our most fun times are filled with tasty drinks, craft food, great company and awesome deals. Which is why we created not one but TWO new happy hours for guests to enjoy. Get all the deets below:
$5 HAPPY HOUR
Level up your social life from lame to legendary with our $5 happy hour special. Relax and unwind during the week with 5 delicious drinks for $5 each. We have a drink for almost every vibe, so all members of your crew find something they like.
Here's our selection of sips: 
            NEW! Tres Tequila Rita
            Hand crafted with 1800® Reposado Tequila, Lunazul® Blanco Tequila,             Hornitos® Tequila, DeKuyper® Triple Sec Liqueur and fresh citrus mix.
            Glass of Wine
            Select between red, white, or rosé.
            Backwoods Blueberry Lemonade
            Hand crafted with Tito's® Handmade Vodka, Ole Smoky® Strawberry             Moonshine, blueberry puree, fresh lemon and fresh citrus mix.
            D&B Long Island Tea
            Hand crafted with Absolut® Vodka, Tanqueray® Gin, Bacardí® Rum, Grand             Marnier®, fresh citrus mix and Coca-Cola®.
            22 oz Domestic Drafts
            Choose from select brews such as Bud Light®, Coors Light®, Miller             Lite® and more.
$5 LATE NIGHT HAPPY HOUR
Happy hour is so nice, we did it twice. Whether you're stopping by with the crew for a nightcap or to start the party, our $5 late-night happy hour special is the best deal around. At D&B, we do late night right. You can still enjoy all the popular pours listed above for only $5 each. 
D&B REWARDS
You may be wondering how our awesome $5 happy hours could get any better. Well, your mind is about to be blown. What if we told you that you can get 1 bonus game chip for each $1 spent on food and beverage – including alcohol! All you have to do is join D&B Rewards, our free loyalty program. Download the app from the App Store or Google Play, then drop your digits to your server before you pay. 
FIND YOUR HAPPY
Ready to start planning your next happy hour hang? Find your D&B to see store times and details. Until then, cheers!
$5 beverages including 22 oz. select domestic draft beer, glass of wine, Backwoods Blueberry Lemonade, Tres Tequila Rita, and D&B Long Island Tea are available during Happy Hour and Late-Night Happy Hour in select Dave & Buster's locations. Time and offerings may also vary by location. See the store for details.