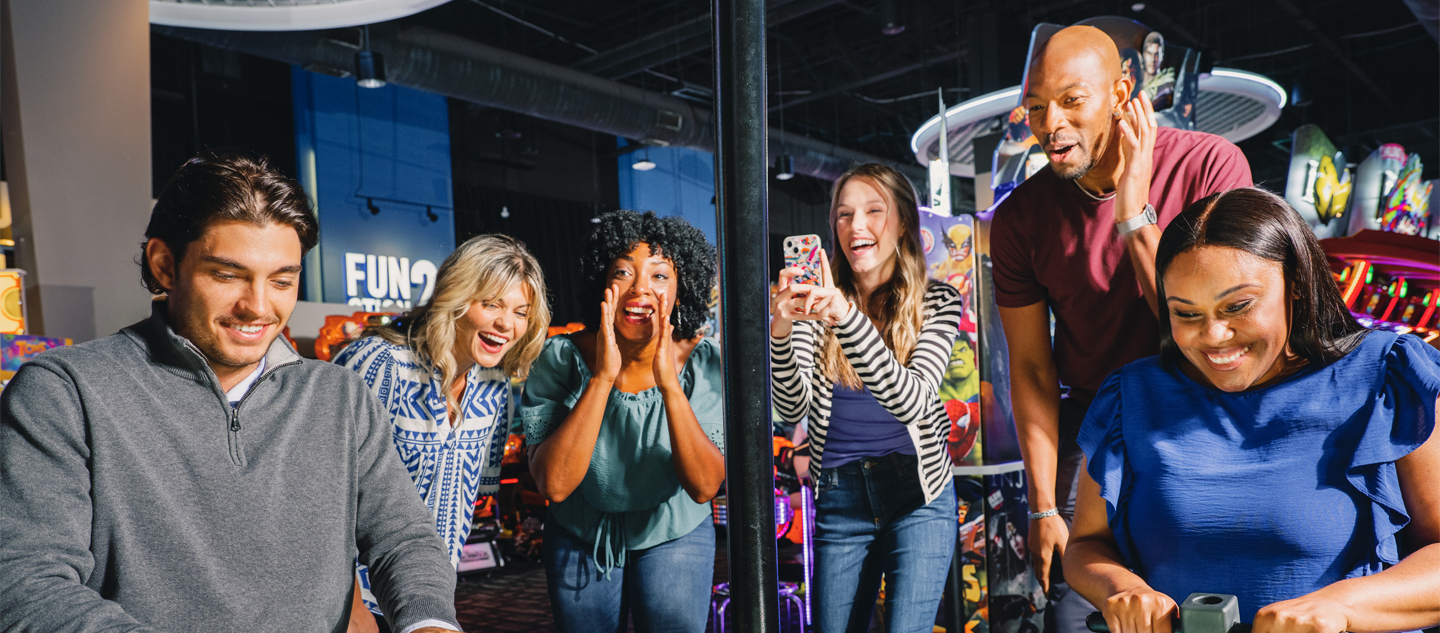 EVERYONE WINS AT DAVE & BUSTER'S
They say it's not about winning or losing. But those people obviously haven't been to Dave & Buster's. Because with hundreds of games to play, everyone leaves feeling like a champion. We offer arcade games, tabletop, air hockey, ping pong, billiards and more! Whatever you can dream, you can play at D&B! 
Customize your visit to match how much you want to play. Each level of gameplay provides more value (and more wins) than the previous.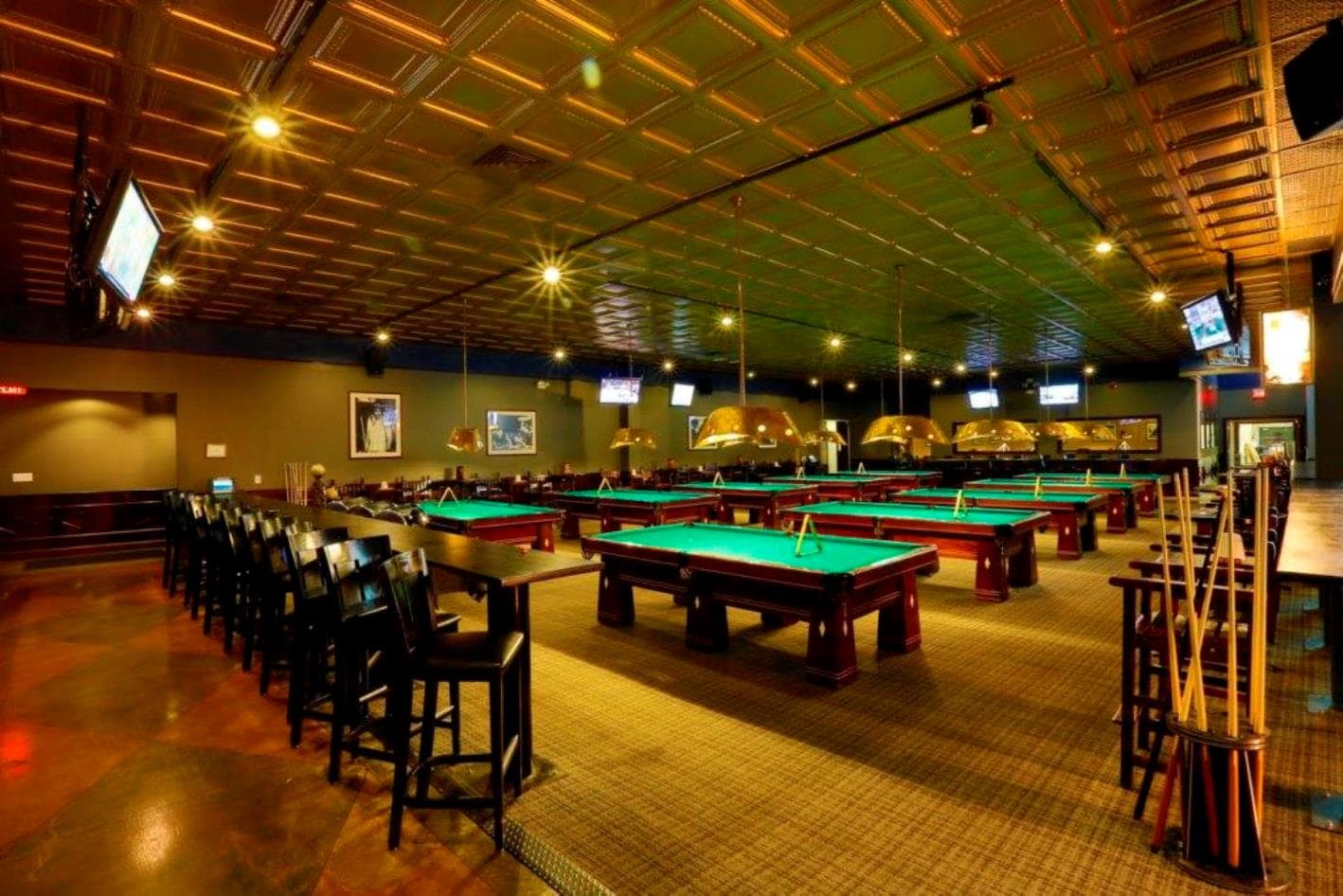 ALL THE FUN FOR HALF THE PRICE
Play ½ price games every Wednesday from open to close*
Make a game plan that maximizes your fun at Dave & Buster's.
Star Trek
An innovative coin pusher game where players can win character cards based on the classic television series that can be collected or redeemed for redemption tickets. Collect the entire 8 card set or redeem the entire set for out-of-this-world ticket values. 
 
Unlike coin pushers of the past, this pusher features rapid fire coin action utilizing a joystick and pushbutton operation. Players can skillfully direct the coins with the multi-directional automatic coin ramp; allowing the player to strategically place coins on the playfield to push cards, coins and game chips over the ledge for ticket redemption.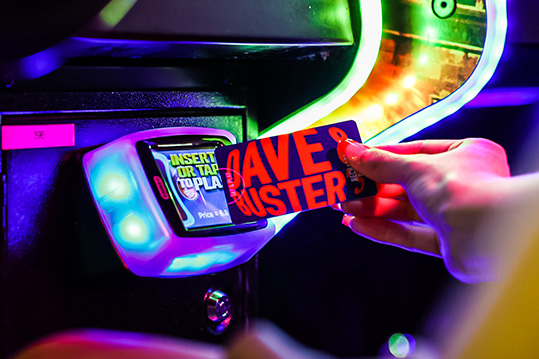 Halo
Set in the timeframe of Halo: Combat Evolved, this arcade experience hot-drops players feet first into the boots of Fireteam Raven – a group of elite Orbital Drop Shock Troopers (ODST) on the surface of Alpha Halo fighting alongside the Master Chief and the rest of the UNSC as they try desperately to prevent the alien Covenant alliance from taking control of the ancient super-weapon. 4 Player action only adds to the fun!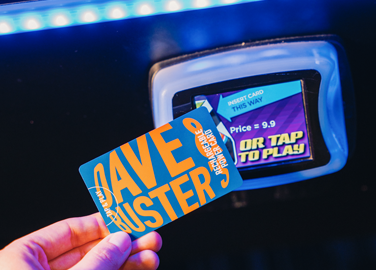 Connect 4 Hoops
Shoot! Score! Connect 4! What's better than a good old-fashioned game of Connect 4? How about adding a sporty, larger-than-life twist by playing with basketballs! 
 
One or two players shoot baskets and watch as their basketballs magically fall into place on the LED-projected grid. The first player to align four balls horizontally, vertically, or diagonally on the augmented reality playfield wins!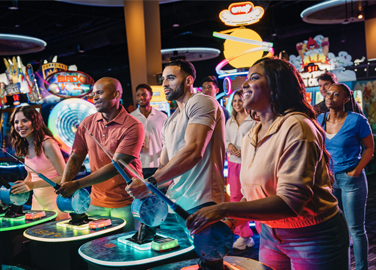 Wicked Tuna
Based on the riveting TV Series, Wicked Tuna, that follows fishermen on dangerous waters, this game pulls you into the action!
Arcade games, tabletop games, billiards, air hockey and more! See all the ways to play at Dave and Buster's.